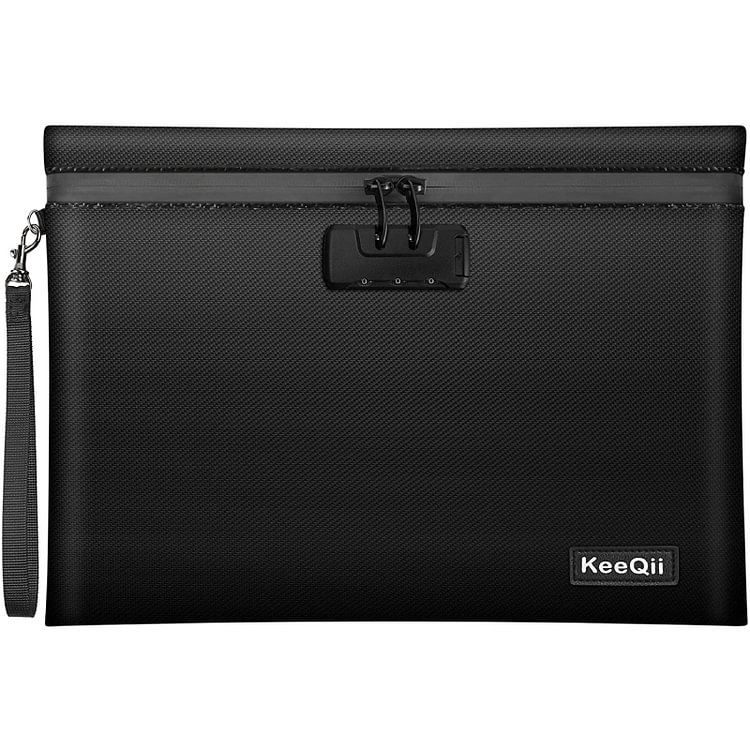 FIREPROOF & WATERPROOF PROTECTION: Fireproof money bag is made of high-quality flame retardant-treated fibreglass material that can withstand high temperatures up to

1832°F

, and provides double-layer fire protection. And fibreglass material has excellent waterproof performance. No more worrying about the important documents in this bag getting wet by accidental water.
WITH COMBINATION LOCK: Are you still worrying about lost or stolen important files? The fireproof money bag has a mechanical structure with a three-digit combination lock, which is easy to set up and has high confidentiality, and is specially designed to protect the safety of your valuables.
Double layers of fire-resistant protection.

Powerful combination lock and waterproof zipper.

Suitable for letter-size documents.

Perfect size and easy to carry.

Soft material, it can be easily folded.




Product Information

Brand: KeeQii

Item Weight: 10.4 ounces

Dimensions: 14.9 x 11.0 inch
Color: Black



Tips

Do not wash or immerse the fireproof bag in liquid. Or wash it with a washing machine. Clean the fireproof bag with a wet towel.

Please pay attention that the long time high temperature will cause the paper in the fireproof money bag to carbide. So please keep the pouch in a safe near the floor.

Any fireproof document bag does not support endless fire exposure, so please do your best to keep minimum exposure.

A fireproof bag is a barrier to protect your documents and jewellery Cash from fire damage. But the best way to protect everything is still to keep them away from fire.
We proudly offer free worldwide shipping for document bags over $39.9. Because the items are coming from overseas, shipping usually takes between 7-28 days from door to door (excluding processing time). In extremely rare cases, shipping will exceed 28 days due to factors such as shipping congestion, customs delays, and high order volumes.
Typical shipping time frames are as follows:
USA: Between 7 - 20 days average
Canada: Between 7 - 20 days average
Europe: Between 7 - 30 days average
Australia: Between 20 - 40 days average
Russia: Between 15 - 60 days average
All Others: Between 6 - 40 days average
You can track your order by simply contacting us.
Why is my tracking stuck?
This is completely normal. When your order is in transit and moving between countries, tracking will be very slow to update (the package(s) are on shipping containers in the middle of the ocean).
What shipping provider do you use?
You can expect to receive your package(s) through your local carrier (USPS if you are located in the US) once it passes through customs. Times will vary depending on multiple factors, including seasonality, backlog, and the speed of your local carrier.