Best Fireproof Waterproof Document Bag 2023
Feb 27, 2023 by jundun
Generally, documents such as work records and bills store on cloud disks. However, paper documents still play an important role in business and personal life, so they need to preserve to avoid spoilage. Whether you're looking to add security to your documents or keep valuables, fire-resistant document bags can help. And we will introduce the best fireproof waterproof document bag in 2022.
What is the fireproof & waterproof document bag?
To put it simply, fireproof bags are also a kind of storage bag. But compared to ordinary bags, fireproof bags are fireproof, can withstand brief fire exposure and keep indoor temperature safe, and can store irreplaceable documents, cash and small valuables. In the event of an emergency, losses can reduce appropriately.
The type of fireproof document bags
Fireproof document bags have different sizes, we can choose according to our own needs. But in fact, the fireproof bag also has different types of, such as document bags, document organizers and fireproof boxes. If you need to store or hold large things, it is recommended to buy an organizer and box. These types will describe in detail later.
Function
Fireproof document bags provide some protection for your essential documents from heat damage, but they are not 100% guaranteed against violent fires.
How to choose
Fire-resistant document bags should be considered "fire-resistant" rather than fire-resistant, as this type of document bag protects the contents from fire. At the same time, it can also provide a degree of safety against the heat in the event of a fire and the document bag is nearby.
Most fireproof document bags make from silicone-treated fiberglass, and the better ones have two or more layers of treated fiberglass for added thermal protection. Some also come with a foil lining. If the bag is in a real flame, don't expect the contents to come out unscathed. If you want absolute fire protection, consider a fire safe rated for 1 or 2 hours.
Tips to use
We simply put the documents in a fireproof bag and let it provide some level of protection, but at the same time always store the bag in a safe place. The following tips can help your files get maximum protection in the package.
- When choosing a fireproof document bag, consider larger sizes as you may find other items to store.
- The higher the fire rating, the safer your belongings will be. For best protection, look for bags that can withstand at least 2,000 degrees Fahrenheit.
- Only put dry items in the bag. Fireproof bags can trap moisture inside, making documents moldy or prone to mold. Make sure all documents and valuables are dry before putting them in the bag.
Best fireproof waterproof document bag 2023
You can choose JUNDUN Document Bags Upgraded 2 Pack, which are made of high-quality non-itchy grade silicone coated fiberglass surface that no harm to skin, only fire resistant but also highly water resistant. The aluminum foil-coated interior has a higher melting point than the normal nylon material and is more fireproof. Special fire retardant seams on both sides and bottom. No matter what the emergency will better offer 100% waterproof and withstand the temperature to 2000℉.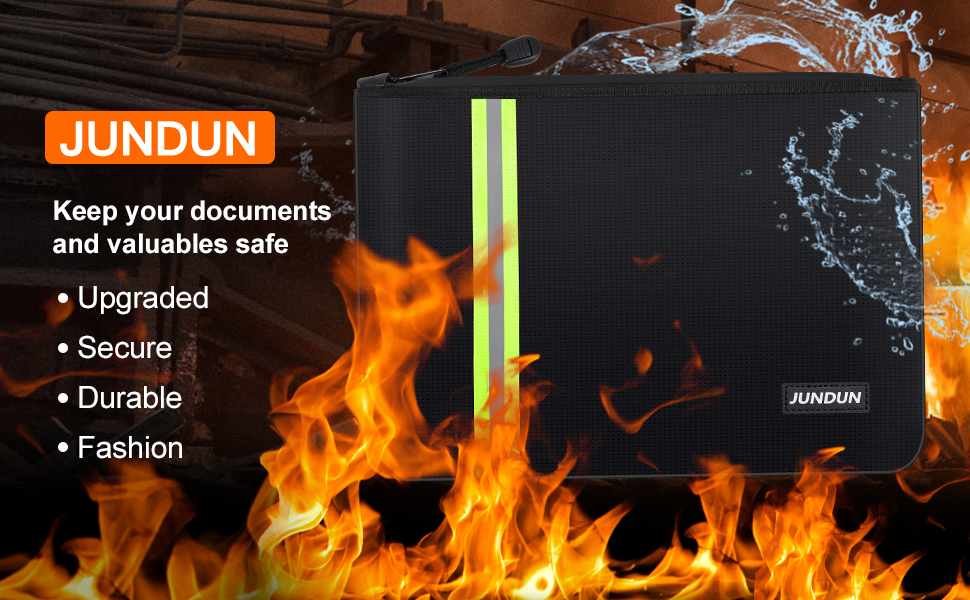 Conclusion
Ultimately, the best fire bag for us is JUNDUN. We like that it comes with two smaller cash and passport pockets and a lock for added security. Plus, it can comfortably fit legal-sized documents.
We believe that a truly fireproof safe is better at protecting valuables from fire. Also, JUNDUN it is much stronger than any other fireproof document bag.
Good luck!
Latest posts
Featured product