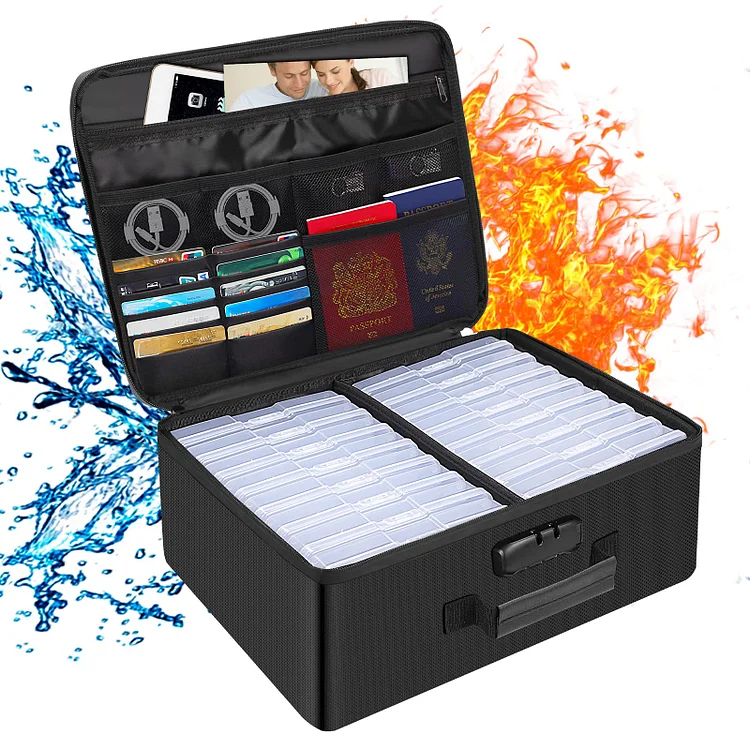 Fireproof and Water-resistant(4" x 6" Photo Cases included): Fireproof photo storage box is made of three layered non-itchy silicone-coated fiberglasses which stand temperatures up to 2000℉. A fireproof photo storage box is not only fireproof but also highly water resistant in case it gets wet for any reason.16 Inner 4" x 6" photo boxes can organize and store your important photos, valuables, and more.
Large capacity: 14.37 * 10.63* 6 inches, the perfect solution to Organize&Store photographs, craft Supplies, pictures, scrapbooks, important documents and office supplies. Various pockets on the lid are designed to give you more storage space. Includes 16 of the 4" x 6" photo cases, each case holds 100 photos, holds up to 1600 4" x 6" photos, convenient to use and take with. The Non-dusty material can prevent dust from sticking to the outside of our fireproof photo box, always keep it neat and tidy.
Portable and secure: The lid is additionally designed with 1 large zipped pocket,4 U Disk pockets,10 card slots and 2 passport pockets. Great way to organize your small items.High-quality combination lock design for added storage security, including an instruction manual for a combination lock. A sturdy handle makes it easy to carry everything you need, and two Water-Resistant Zippers make it easier to open and close the box. The wider strap handle design on the back allows you to insert a suitcase handle.
High-quality: PP boards won't warp and they can hold a minimum of 150 lbs. The photos organizer case collapses down simply for easier storage when not in use.
Product Information
Color: Clear | Multi-Colored
Material: Three layered non-itchy Non-dusty silicone coated fiberglass, Hard PP board
Special Feature: Water-Resistant, Collapsible, with Lock, Fireproof
Capacity: 16 Liters
Item Weight: 1kg