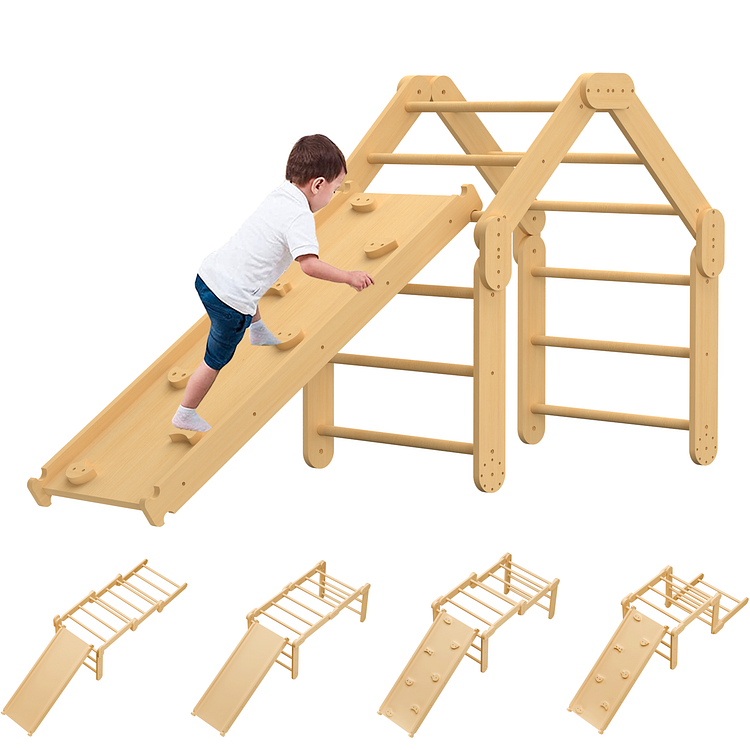 2 in 1 Pikler Triangle Set - Our wooden Montessori climbing toys with both climbing and sliding, the entire Pikler Triangle with 47" long, 19.68" wide and 3.93" thick The Pikler Triangle is very spacious, sturdy and durable. The wooden structure can withstand up to 200lb of weight, allowing your children to play together and enjoy the fun of childhood.
Start A Childhood Journey of Explore - Adjustable Triangle Climber with more than 10 changing modes, can be freely adjusted to any shape and height you want, Let children explore infinite possibilities in play. Climbing and sliding nonstop Exercises coordination and muscle strength promote motor skills and help brain development.
Superb Quality and Easy Peasy Assembling - The Pikler Triangle Climber made of 100% natural harmless wood, Finely designed wood craftmanship and fine sanding keeping the corner and edges of the ladder are smooth and free of burrs to prevent kids from being injured, keeping your kids play and grow up safely. The simple structure makes assembly easy, and the folding design is very convenient for moving and storage.
A Perfect Gift for Kids - The wooden climbing toys are the best choice as a gift ideal for toddlers 1-3. By creating and exploring more playing modes of the pikler triangle. Let the children away from the screen, in the play in healthy growth.
Product Information
Material: 100% natural harmless wood, Birch
Overall Dimensions: 47" long, 19.68" wide and 3.93" thick
Suitable Age: 1 - 3 Years
Weight Capacity of Each Part: 200lbs
Item Weight: 9.07kg
Shipping Service
Shipping Costs & Sales TAX
Free Tax & Free Standard Shipping & Expedited Shipping on all items.
Shipping Location
Shipping Estimates & Notification
U.S Delivery time:
Standard Shipping: 7 - 10 working days
Expedited Shipping: 5 - 7 working days


Tracking numbers will automatically be emailed to customers once the order is shipped.
For any other questions, please contact us via jundunfireproof@gmail.com