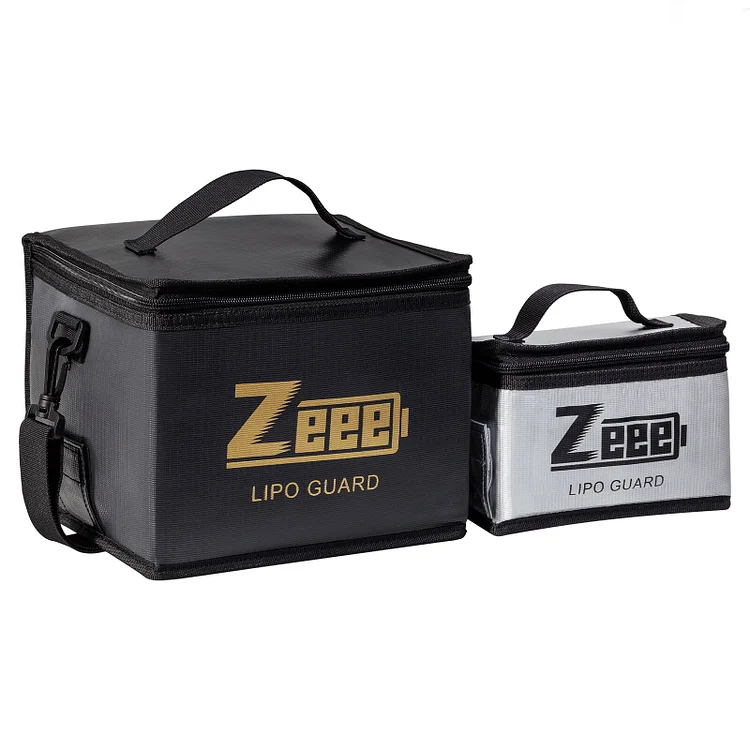 2 Size Zeee Lipo Bag Fireproof Explosionproof Portable RC Car Lipo Battery Storage Safety Bag Specialized Fire Guard Accessories.
Features:
Zeee Fireproof LiPo Battery safe storage bag is a convenient way of safeguarding your Lipo batteries during charging, transit, and storage.
Release your mind when the lipo is on charging, while you have to leave away for a while by closing the lips in the bag
Protect your home and valuables from a fire due to a Lipo battery failure with a Zeee Lipo-Safe bag. Useful for storage, travel and during charging.
The bag has an outer and inner lining made from a woven fire-retardant fiberglass material, which helps contain and greatly reduces any fires inside the bag.
Specification:
Material: Doulble-layer 100% fireproof fiberglass fabric.Inter-layer non-woven fabric with flame retardant effect, and outer layer PVC fiber, which effectively isolates air and improves safety when charging.
Heat insulation temperature up to 1000℉.
Length: Large:233mm/9.17inch Small:190mm/7.48inch
Width: Large:209mm/8.23inch Small:94mm/3.7inch
Height: Large:174mm/6.85inch Small:111mm/4.37inch
Weight(±10g): 380g/13.4oz/2pc
Application:
The fireproof storage bag is used for safely transporting, storing, and charging lipo batteries.
Safety Notes:



Never leave the charging battery unattended.
Always ensure the battery is on a non-flammable surface.
Ensure only the charging battery is inside the bag and the lipo battery bag is sealed while charging.
If the lipo battery bag has any problem, feel free to contact us via Aliexpress message the first time, and we will offer you a proper solution.
Package included:
2 * Zeee Lipo Battery Safe Bag
Alt