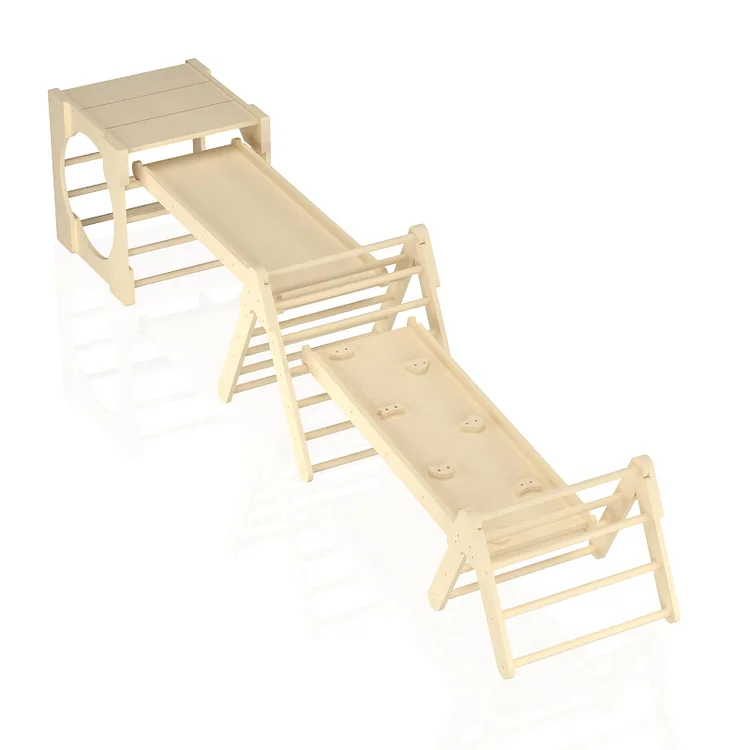 Wooden Montessori Triangle Climber - Our triangle climber set allows children to have a happy and healthy childhood, toddlers listen to different ways of play such as climbing, sliding, and balance beam to create more fun, exploring the limits of the body, improve their motor skills, and enrich the child's imagination.
Colorful Enlightenment toys - Every toy is a way for children to get to know and touch the world, our multifunctional climbing ladder, a set of toddler climbing toys includes two climbing triangles, a climbing cube, and a climbing. Our colorful climbing ladders are sprayed with BPA-free environmental paint, non-toxic and tasteless to protect children's health, and colorful colors to enrich children's color knowledge.
CPC Safety Certification, Guarding Toddler Health - Our climbing triangle is made of 100% high-quality natural wood, which is strong and durable, not easy to break, and has the characteristics of long-lasting use. At the same time, the exquisite sanding technology makes our wooden climbing toys smooth on every side and every corner, with no burrs, and high quality to create a safe and healthy playground for children.
5-in-1 wooden toddler climbing toy set - Our toddler climbing ladder set is the best choice to release children's energy, through different combinations, children can try a variety of different ways to play, different slopes and ways to create more fun so that children can also be happy at home all day.
Product Information
Material: 100% natural harmless wood
Overall Dimensions: 157 x 31.5 x 27.5 inches
Suitable Age: 36 months - 10 years
Item Weight: 32.07kg
Shipping Service
Shipping Costs & Sales TAX
Free Tax & Free Standard Shipping & Expedited Shipping on all items.
Shipping Location
Shipping Estimates & Notification
U.S Delivery time:
Standard Shipping: 7 - 10 working days
Expedited Shipping: 5 - 7 working days


Tracking numbers will automatically be emailed to customers once the order is shipped.
For any other questions, please contact us via jundunfireproof@gmail.com