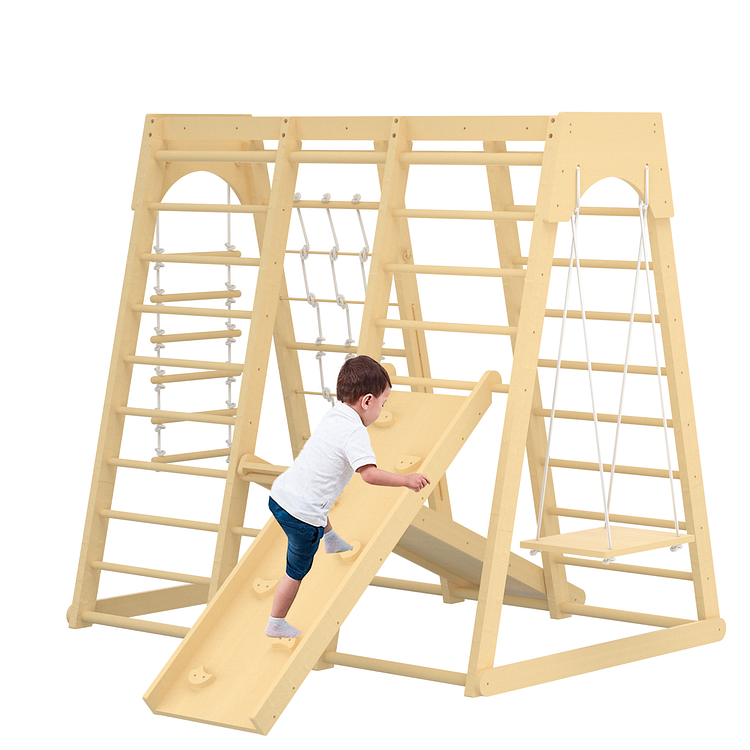 【Play Safer with 100% Natural Materials!】 The wooden Montessori toys for kids use 100% natural harmless wood, non-toxic and ecological materials, maximum enable kids to play and grow up safely Toddler climbing toys' indoor surface is coated with a Non-toxic BPA free which is more environmentally friendly than plastic materials, thus creating a safe environment for your kids when playing. NOTE: Parents must supervise children while playing.
【8-IN-1 Wooden Climbing Toys】 Toddler climbing play set includes a Slide, Climbing ladder (dual-use ladder), Monkey bars, Rope ladder, Arm ring, Swing, Climbing Rock, and Climbing Net Style for Kids to play. It's a perfect gift to strengthen children's motor skills and balance control and help children to improve their courage.
【Montessori toys】Our 8-in-1 wooden kids climbing toys are not only a climbing exercise tool but also an educational learning toy, the climbing section can exercise the balance ability of kids, suitable for multiple children to play together at the same time. Each climbing section has a maximum load of up to 220 lbs.
【Perfect Play Set for Toddlers】This climbing play set comes with 63 inches high, your kids can practice walking, climbing and sliding on stair slides indoors for kids so as to develop their motor skills and improve their physical quality. It is suitable for kids 1-8 years old to enjoy a really funny and meaningful time.
【Easy Assembly & Maintenance】 With detailed instructions and necessary hardware, this kid climbing a ladder is easy and quick to assemble. The whole climbing wooden play gym is easy to assemble and can be easily completed in 40 minutes when parents do it together. The waterproof surface makes it convenient for you to clean the jungle gym and you can use it indoors or outdoors according to your needs.
Product Information
Material: Birch Wood, Beech Wood, Polyester
Overall Dimensions: 66"L x 46"W x 47"H
Size of Slide: 50.2"L x 16"W x 3"H
Suitable Age: 1 - 8 Years
Weight Capacity of Each Part: 200lbs
Swing Weight Capacity: 550lbs
Item Weight: 21.77kg
Shipping Service
Shipping Costs & Sales TAX
Free Tax & Free Standard Shipping & Expedited Shipping on all items.
Shipping Location
Shipping Estimates & Notification
U.S Delivery time:
Standard Shipping: 7 - 10 working days
Expedited Shipping: 5 - 7 working days


Tracking numbers will automatically be emailed to customers once the order is shipped.
For any other questions, please contact us via jundunfireproof@gmail.com