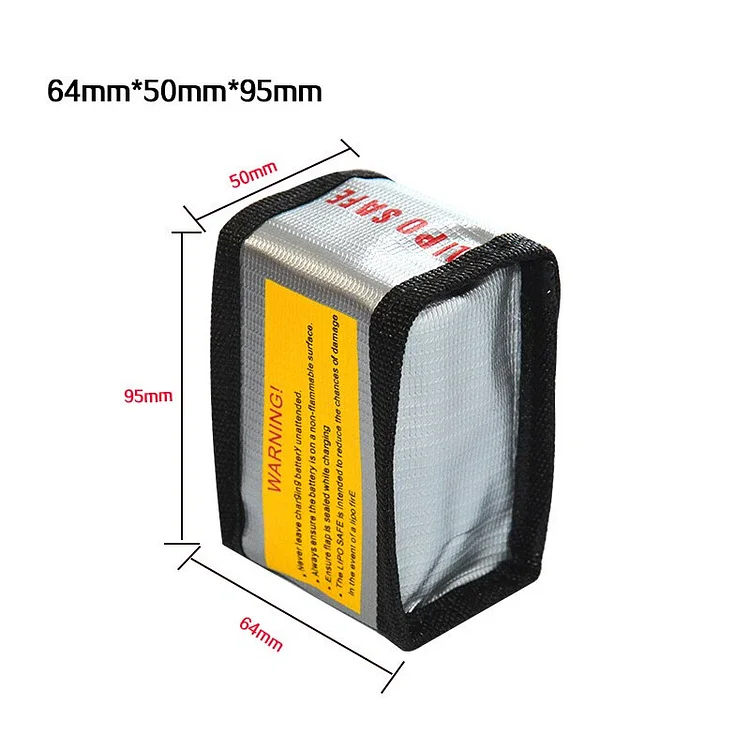 Specification:
Material: Glass fiber

Color: Silver

Never leave the charging battery unattended.

Always ensure the battery is on a non-flammable surface.

Ensure the flap is sealed while charging.

Adhesive taps package

Size:
64*50*95mm | 2.5*2*3.7 inches
64*50*125mm | 2.5*2*4.9 inches

100*200*6mm | 3.9*8*0.2 inches
185*75*60mm | 7.3*3*2.4 inches
Features:
Designed with a stylish and artistic appearance, it is convenient to carry.
Used for storing and protecting lithium batteries from being damaged.
It is blast-proof and fireproof and can protect the battery better.
Protect your workshop, family and home from the hazard of lipo charging.
High quality, good durability.
This flame-retardant bag is a convenient way of safeguarding your LiPo batteries during charging, transit, and storage.
The lipo safe is a hi-tech bag made of space-age materials that have the ability to contain a lithium polymer battery fire or charging mishap.
Place your lithium polymer battery inside the lipo safe and extend the charging wires through the top flap.
Charge the lipo batteries when they are in the Lipo safe for peace of mind and greater safety.
In the case of a lithium polymer battery charging mishap, the lipo-safe fire-resistant material mitigates the ferocity of the Lipoly blaze inside and vents the smoke outside the lipo safe.