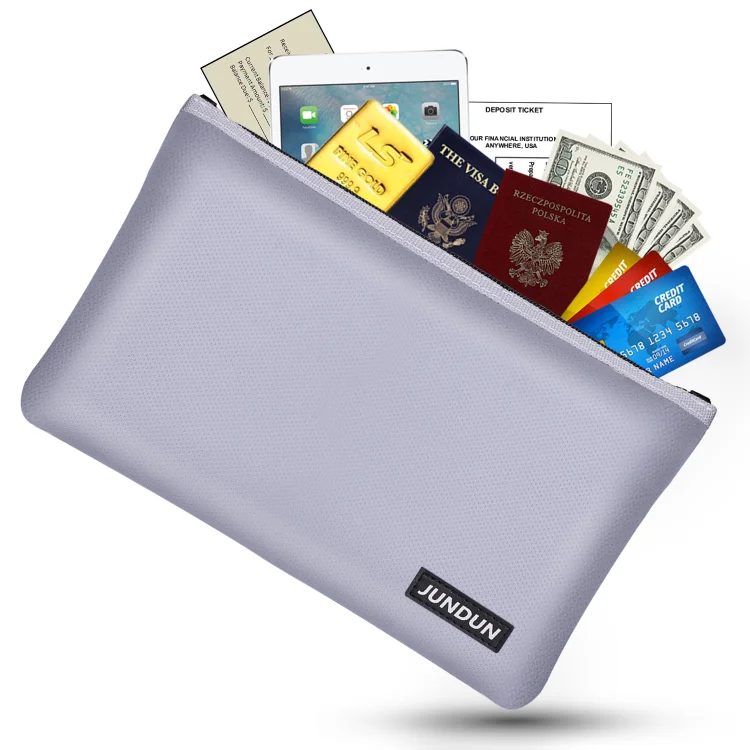 FIREPROOF & WATER-RESISTANT: Fireproof document bags are made of

high-quality non-itchy silicone-coated fiberglass

which stands up the temperature up to

1832℉

. It will keep your values 100% safe. The document holder is not only fireproof, but also highly water-resistant in case it gets wet for any reason.
ULTRA SAFE PROTECTION: With a large capacity of 10.6 x 6.7 inches, a fireproof document bag can keep most of your most valuable items including passports, licenses, USB disks and CDs deeds, certificates, cash, letters, precious photos, marriage certificate, money and more.
ZIPPER CLOSURE PROTECTION: Fireproof zipper adds storage security and carrying safety. A money bag with

a zipper

is ideal for the office or home. Combining a fireproof bag and fireproof safe box together is the best solution to offer your documents and valuables complete protection in any fire accident
CASUAL DESIGN FOR DAILY LIFE: with a

hanging trap

, a fireproof money pouch is a convenient accessory for you no matter at home or in the office, portable and can be easily folded, you can use it anytime and anywhere.
Accidents happen when we least expect it, and there's nothing more devastating than a fire that takes away valuable paperwork, personal information, pictures or achievements. That's why we developed the fireproof document bag- Protect your financials, personal information, and document notebook, that won't let you down when an emergency strikes.
Do not wash or immerse the fireproof bag in liquid. Or wash it with a washing machine. Clean the fireproof bag with a wet towel.

Please pay attention that the long time high temperature will cause the paper in the fireproof money bag to carbide. So please keep the pouch in a safe near the floor.

Any fireproof document bag does not support endless fire exposure, so please do your best to keep minimum exposure.

A fireproof bag is a barrier to protect your documents and jewelry cash from fire damage. But the best way to protect everything is still to keep them away from fire.
Product Information

Brand: ‎JUNDUN

Item Weight: 100g

Dimensions: 10.6 x 6.7 inches

Color: Black