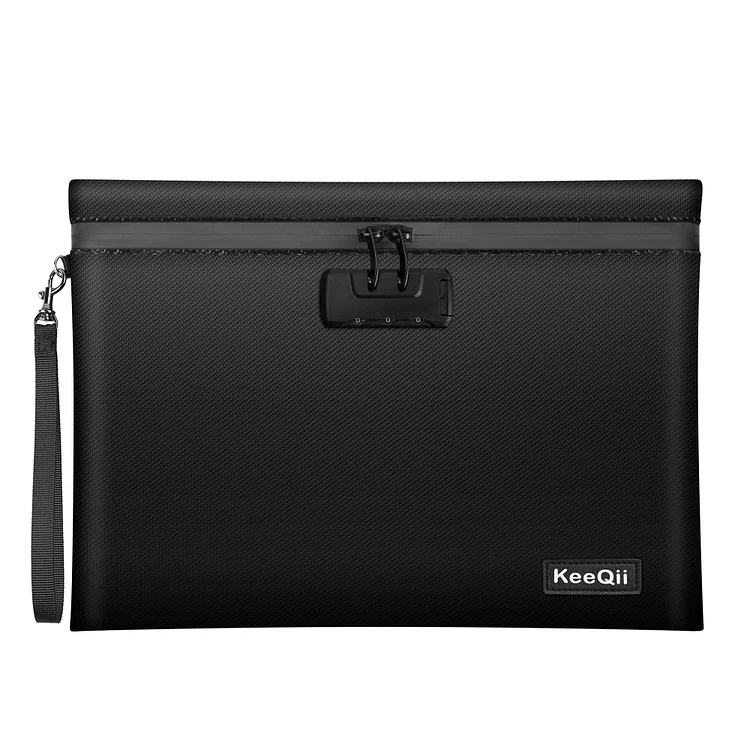 FIREPROOF & WATERPROOF PROTECTION: Fireproof money bag is made of high-quality flame retardant-treated fibreglass material that can withstand high temperatures up to 1832°F, and provides double-layer fire protection. And fibreglass material has excellent waterproof performance. No more worrying about the important documents in this bag getting wet by accidental water.
WITH COMBINATION LOCK: Are you still worrying about lost or stolen important files? The fireproof money bag has a mechanical structure with a three-digit combination lock, which is easy to set up and has high confidentiality, and is specially designed to protect the safety of your valuables.
Double layers fire-resistant protection.

Powerful combination lock and waterproof zipper.

Suitable for letter-size documents.

Perfect size and easy to carry.

Soft material, it can be easily folded.




Product Information

Brand: JUNDUN
Sub-brand: KeeQii

Item Weight:250g

Dimensions: 13.8 x 10.0 inch
Color: Black



Tips

Do not wash or immerse the fireproof bag in liquid. Or wash it with a washing machine. Clean the fireproof bag with a wet towel.

Please pay attention that the long time high temperature will cause the paper in the fireproof money bag to carbide. So please keep the pouch in a safe near the floor.

Any fireproof document bag does not support endless fire exposure, so please do your best to keep minimum exposure.

A fireproof bag is a barrier to protect your documents and jewelry Cash from fire damage. But the best way to protect everything is still to keep them away from fire.