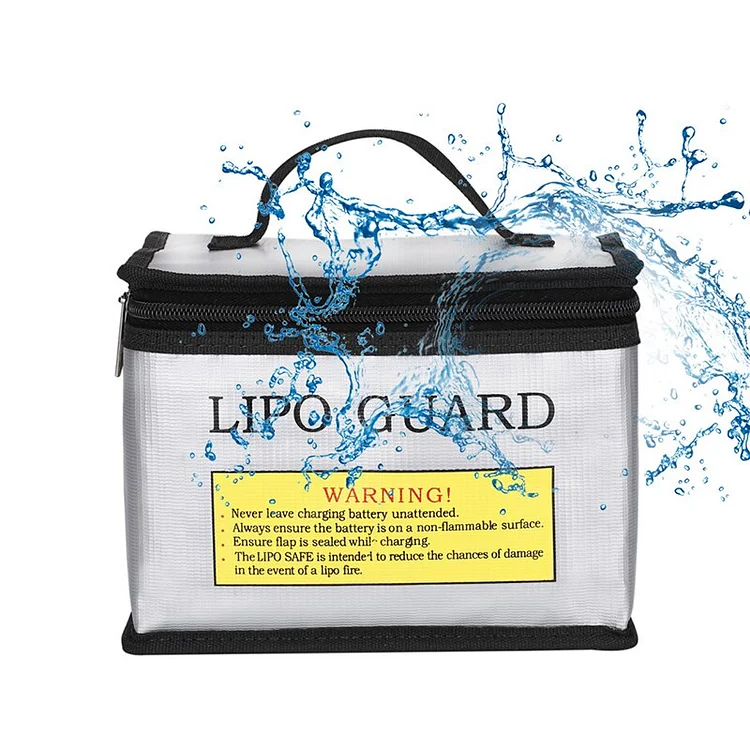 Product Information
Product Name: Battery Safety Bag
Color: Silver
Temperature Resistance: 700℃ | 1292℉
Product Size: 215*145*165mm | 8.43*5.71*6.5 inches
Material: Double-layer 100% Fireproof Fiber Cloth, Aluminum Foil Coating
Features: Explosionproof, Fireproof, Waterproof, Double Zippers, Lightweight, Heat-resistant
Application: The fireproof storage bag is used for the safe transportation, storage, and charging of lithium batteries.
Feature:
Fireproof & Explosion: This battery-safe bag is made of the fireproof fiber cloth, and surface aluminum foil coating, which can effectively isolate the battery from contact with the air when the battery is accidentally burned or exploded and can prevent air from entering the bag when the flame is burning and cut off the oxygen supply.
Small & Portable: It has a small and portable, fully enclosed design, and has a hook and loop buckle, so the portable battery safety bag can be firmly closed and sealed.
Wide Range of Functions: It can protect your workshop, family, and home from lithium polymer battery charging hazards, and is easy to transport, store and carry when the battery is not in use.
Provide Protection For Battery: The fireproof bag can prevent the fire from spreading and effectively protect the battery. Battery-safe storage bag is a convenient way of safeguarding your lipo batteries during charging, transit, and storage.
High-quality: Made of splash-proof PVC material, fireproof cotton and glass fiber cloth, the battery safety bag is fireproof and waterproof, very durable.